By Josh Robbins Orlando Sentinel
10:57 p.m. EDT, July 22, 2011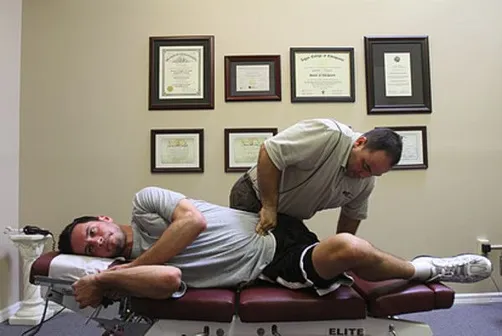 J.J. Redick
(GARY W. GREEN, ORLANDO SENTINEL / July 18, 2011)
J.J. Redick, Orlando Magic shooting guard, receives active release therapy from Dr. Lawrence Teixeira in Altamonte Springs, Fla. Tuesday, July 19, 2011.
This is the adjustment that Redick and other NBA players have made since franchise owners imposed a lockout at 12:01 a.m. on July 1. With league practice facilities closed and a communications blackout now in effect for team staff members, the players now must take total responsibility for their offseason training routines.
The lockout couldn't have started at a more problematic time for Redick. In late May, he underwent surgery to repair two painful abdominal-muscle tears, and although the procedure went well, he needs to rehabilitate the area and the surrounding muscles.
To understand how he's dealing with the lockout, the Orlando Sentinel asked Redick for permission to shadow him during a recent weekday. Something became obvious shortly after Redick met a reporter and a photojournalist at 8:15 in the morning: The labor dispute tests his planning ability almost as much as his rehabilitation regimen challenges his physical toughness.

Redick would prefer to work with them as he recovers from surgery.
Instead, he assembled his own support team for these next few months: Blanchard for hoops, fitness specialist Jeremiah Marks for core exercises, strength trainer John Dickson for weightlifting, chiropractor Lawrence Teixeira for active release therapy. Redick also has regular physical therapy sessions at Florida Hospital's outpost at RDV Sportsplex and does Pilates workouts.
He would usually condense almost all of his summertime workouts into a three-hour span at Amway Center, from 9 a.m. to noon. Now, however, he has less time to free time to spend with family.
He takes I-4 westbound on his route from Rollins to meet Marks at Gym Rat Boxing at 10 a.m. near downtown Orlando. The route takes him past Amway Center.
Redick finds that he's so busy thinking about maintaining his schedule and running a charity golf tournament that he rarely, if ever, lets himself react as the arena fades in his rearview mirror.

* * *
Working with Marks, Dickson and Teixeira often leaves Redick sore.
All three specialists focus intently on stretching Redick's core - something Redick didn't do often before he suffered the muscle tears in mid-March.
Surrounding muscles tightened after the injury, and the stretches and therapy routines occasionally leave Redick's face bright red.
"He's made tons of improvements from when he had his surgery until now," Marks says. "When he first had his surgery, he was almost in a hunched-over position. Now he's elongating those muscles and getting them stretched out."
On this day, Redick has about 20 minutes to wolf down a pork rice bowl and drink a large cup of ice water at a Chipotle near downtown Orlando.
He has to hurry because he has a 1 p.m. physical therapy appointment in a public section of RDV Sportsplex, which still houses the Magic's business offices.
As he drives past Amway Center again, he's asked how long he thinks the lockout will last.
"I'm hopeful that we'll have a season, but I truly believe we'll only play games if there's compromise on the owners' part," he says.
Redick drives directly from physical therapy to Dickson's gym along North Mills Avenue in Orlando.
He's dreading this because Dickson, a muscular man in his early 50s, doesn't take it easy on his clients.
But the 50-minute session goes well. It ends with 10 "burpees," an exercise in which he begins by standing up. He drops into a squat and then goes onto the floor chest-first, does a push-up, jumps to his feet with his hands overhead and repeats the entire process again.
Redick huffs and puffs.
After some stretches, he and Dickson shake hands.
Now it's off to Altamonte Springs for Redick's meeting with Teixeira.
For 20 minutes, Teixeira stretches Redick for active release therapy, which is designed in part to treat the scar tissue and adhesions that have built up in his body. At one point, Teixeira asks Redick to rest on his right side; Teixeira then appears to pull on Redick's left hip as he pulls down on Redick's left leg.
Redick grimaces.
But when he stands back up again, he feels great.

* * *
It's about 4:45 in the afternoon when Redick finishes his workday.
"I feel like I'm getting close to normal speed," he says.
He should be completely healed by September.
That's usually the time when most Magic players return from their hometowns and start to gather at Amway Center for workouts.
The lockout probably will be in full force this time.
Redick will reassess his workout plan then. He might go to Duke, his college alma mater, to train.
He will have logged hundreds of miles crisscrossing Central Florida on his way from one appointment to the next.
By then, it might be time for a temporary change of routine.