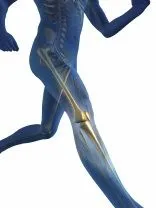 We do not perform endless treatments without results. The majority of our patients require four to twelve patient visits to resolve their acute condition. Why are we so effective? Dr. Teixeira is able to treat biomechanical conditions with the use of chiropractic in addition to soft tissue (muscle, tendons, fascia, & nerves) problems with Active Release Technique (ART), Graston, and corrective excercises. These techniques used by many professional sports teams because of their effectiveness.
In order to achieve a high level of results when treating soft tissue conditions, the diagnosis must be extremely specific. Once the tissue involvement and condition it has caused has been identified, treatments can begin. We recognize that not all patients with the same condition respond in the same way. For this reason, each patient has an individualized plan. ART may be used alone or with any combination of other services- chiropractic, massage, acupuncture, decompression, etc.
Once the injury is truly resolved, the symptoms should not return unless the injury happens again. In order to have a high success rate, the patient must take an active role by following instruction on individual exercises, stretching, and posture. The patient must build strength, flexibility, and conditioning to maintain health.